Book Angles Poems
If you like to get  the book   "Angels Poems" written by   the youngest writers on Balkan,  please, take contact with me.  It can be delivered to you in paper format or PDF download. 
Payment on Pay Pal
Price: 20 Euro  (Paper-book)
Shipping by post on your home address. 
PDF will be send on your e-mail.
Price for PdF book:  14  Euro
You will get link for download  on your mail after your payment on PayPal.
They will be  really glad to share   this nice book written on English, Swedish, Macedonian, Serbian, Croatian  and Bosnian with children all around the world.
The book  is illustrated with own writers paintings.
Poems, Prose, Acrostic verse, Haiku, Fast writing,  poems in original handwriting by writers. One specific way to transfer knowledge " kids to kids". Very clever thoughts given by writers in ages 7-13 year. 
" Je mer leenden skickar du i ether desto mer kommer tillbaks."
"  Što više osmijeha pošalješ u eter utoliko više ti se vrati."
" You send many smiles in ether the more comes back."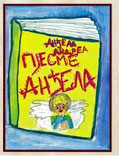 11. Jun, 2008 -  Promotions of the book Angels Poems
Knjigu najmladjih pisaca na Balkanu Andjele i Andree Grbić možete poručiti na  kontakt formi ili na  mail dolje.  Knjiga je na  švedskom, engleskom, srpskom hrvatskom, bosanskom, makedonskom jeziku i ilustrovana crtežima pisaca.
Pisana rukom pisaca, ilustrovana vlastitim crtežima, pisana proza, poezija, aktostih, haiku poezija,  automatsko pisanje,  aforizmi u stilu na dječiji način ispisani na švedskom, srpskom, hrvatskom, bosanskom, engleskom i makedonskom.   " Za dječiji jezik iz srca ne postoji zakon ni državna ganica".
Knjigu je moguće naručiti u štampanom i elektronskom izdanju (kao pdf dokument)
Štampana izdanja 20 Euro

Štampana izdanja je moguće poručiti iz  BIH, Srbije
Slanje knjige se vrši putem kurirske službe
(cijena takve usluge je 12KM)
Plaćanje se vrši kada Vam dostave knjigu
Slanje knjige za inostranstvo po dogovoru i nakon uplate
Elektronsko izdanje (pdf) 14 Euro

Elektronsko izdanje je moguće poručiti iz bilo koje zemlje. Slanje knjige se vrši putem email adrese. Nakon plaćanja na Vašu email adresu će stići link sa kog možete preuzeti knjigu.
Plaćanje je moguće putem PayPala.


https://paypal.me/ljiljanagd?country.x=SE&locale.
Ukoliko nemate mogućnost plaćanja preko interneta možete me kontaktirati i poručiti knjigu. 
More pictures here.